Takashimaya Gate Tower Mall
[Normal business hours]
10:00-21:00
Other stores'[business hours]
B1F
Biople by CosmeKitchen
8:00-21:00
B1F
KOBEYA KITCHEN EXPRESS
7:00-21:00
1F
Sarabeth's
9:00-22:00
1F
STARBUCKS
7:00-22:00
7F
BorneLund Indoor Playground, KID-O-KID

10:00-19:00 (Reception ends at 18:30)
The times final orders are taken differ between each café and restaurant.
Floor Guide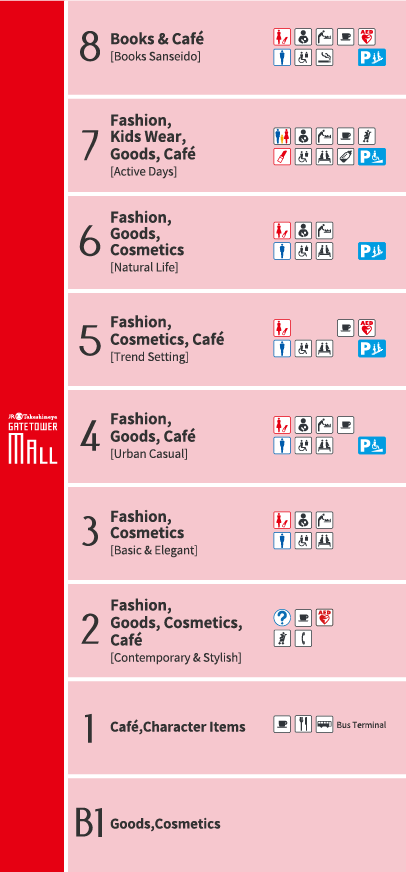 Tax Exemption Procedures
Persons eligible for tax exemption
Nonresident non-Japanese citizens who have stayed in Japan for less than six months (date of re-entry not applicable) or Japanese citizens residing overseas
Application period
Day of purchase only, 10:00-21:00
Eligible/
Ineligible product categories
Category A
Products excluding consumables consumed within Japan : fashion clothing and/or goods, brand goods, watches, kimonos, household goods, etc.
Category B
Consumables not consumed within Japan : cosmetics, health food, other food
Ineligible
Restaurant bills, shipping charges, repair bills
Purpose of purchase
Purchased for personal use only (not for commercial use)
Eligibility requirements of purchased amounts


(Total amount spent in both buildings)

Category A
Total purchase amounts of eligible products in Category A for one day must exceed ¥5,000 excluding tax
Category B
Total purchase amounts of eligible products in Category B for one day must exceed ¥5,000 to ¥500,000 excluding tax.
Items required for application
① Receipts ② Passports (with a seal of permission of landing)
③ Credit cards and other cards when used ④ Items purchased

The name on the credit card, receipts and passport must all be the same.

Method of refund
Cash refunds in Japanese yen
Places for tax exemption procedures
1F Tax Refund Counter (Takashimaya Service Counter)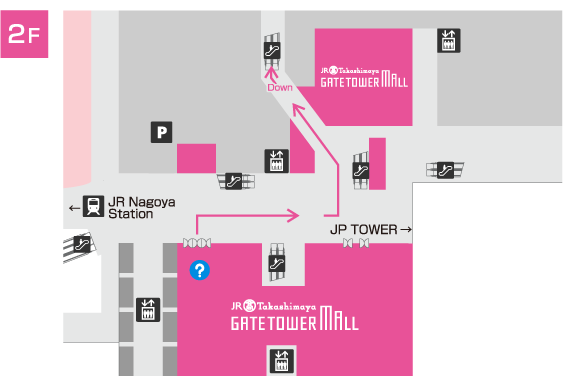 Stores not offering tax exemption
Offered only at individual stores (not totaling purchase amounts): Liesse, CA4LA, Soffitto, LAURA ASHLEY GIFTS & ACCESSORIES, Sports Lab by atmos, UNiCASE
Stores not offering tax exemption: KOBEYA KITCHEN EXPRESS, STARBUCKS, GLOUGLOU REEFUR, ALIBRARY CAFE & BOOKS, TULLY'S COFFEE, CLINTON ST. BAKING COMPANY, SIZE Factory, INFACIOUS, BorneLund Indoor Playground, Books Sanseido's In-store Café, Books Sanseido
TOKYU HANDS offers tax exemption at the information counter in TOKYU HANDS on 5F.
Takashimaya points will be applied only to the card of the person applying for tax exemption.
Receipts issued after completion of tax exemption application will only be made out with personal names.
Please be aware that if you wish to take meats and other livestock products, seafood, vegetables, fruits and other agricultural products out of the country, you must submit these products for an export inspection at either the Animal Quarantine Service or Plant Protection Station. If the above products are not submitted for export inspection in Japan, they will be confiscated at Immigration.
Please be aware that there are some countries or regions which, by laws and ordinances, forbid you to bring in food items. Please be sure to check the customs regulations of your own country or whichever country you are going to visit after Japan. If you are prevented from bringing these items into another country or region, this store cannot take responsibility for the situation.
Embassy employees in Japan must show a Tax Exemption Card with their name on it.
Crew members, e.g., airplane crews, must show Landing Permission for Crew Members with their name on it.
The total purchase amount at Takashimaya Gate Tower Mall and JR Nagoya Takashimaya is eligible for tax exemption. The purchase amount at TOKYU HANDS and Books Sanseido cannot be added to the eligible amount.